'Earth' has biggest documentary opening
Friday, April 24 2009, 20:58 BST
By Tim Parks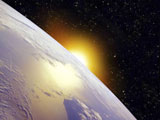 Disney
Earth has had the biggest opening day take for a documentary in film history.
The Disneynature production netted $4 million for its first day of release in 1,804 US cinemas, according to Variety.
The documentary, directed by Alastair Fothergill, is the first film made under the new Disney Studios division. Disneynature was formed a year ago to get the company back into the practice of making nature movies, a staple in its filmmaking catalogue since 1948's Seal Island.
The division is based in France and headed up by Jean-Francois Camilleri. It reportedly plans to build on its recent box office success with March Of The Penguins, which brought in $77.4m (£72.7m) domestically.
The highest-grossing documentary ever in the US is
Fahrenheit 9/11
with $119.1 million